Real Women Ride®
No Knot Hair Accessories

Real Women Ride® No Knot Hair Nets and Real Women Ride® No Knot Exercise Bandanas are two outstanding products by EriQuestrian, LLC. Pull On, Pull Up, Done in 15 seconds. No knots. No pins. Both products are fast and easy to put on. One size fits all and they are washable. Controls any hair length while showing or exercising your horse in any equestrian discipline.
The RWR® Hair Net Case with mirror and comb gives you the perfect place to store your RWR® No Knot Hair Nets and personal items. Case has a mirror to make sure your hair is just right. Mirror flap closes with Velcro. Contains a main zippered compartment and mesh pocket. Black w/silver trim & RWR® logo. Size: 3.75"h x 5"w.

You've spent hours getting prepared for the upcoming show season—hours of practice and dedication spent in the saddle. Now, it's your time to shine and you find yourself racing around trying to make sure that every detail of your show turnout looks great. That frantic, last minute panic can now become a thing of the past with Real Women Ride® Hair Accessories as today's equestrian market seeks to make getting show-ring ready relaxing and easy!


Real Women Ride®
by EriQuestrian, LLC
784 Jarvis Road | Sicklerville, NJ 08081-9538 | 856.309.3922
EriQuestrian@hotmail.com | www.realwomenride.net
© 2013 NSchmidt Design Group, Equine Advertising and Product Development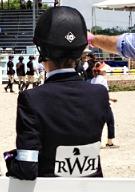 Real Women Ride® Auburn & Gray
No Knot Hair Net Colorbration Special
Celebrate Color with RWR® — The Search is Over!
For years women have looked for these exclusive shades and now we are
the only company that can deliver them to you. Always in stock.
Colorbration
Special!
2 No Knot Hair Nets any color
1 Red or Khaki XBandana
1 Hair Net Case
$29.95 S&H
Now Available Online
www.eriquestrian.com
www.realwomenride.net